Adaptas Leadership Method
We take people through a process of understanding the inner workings of their brain, thoughts, and emotions. The new skills, tools, techniques create healthier and more effective behaviours. This impacts on productivity and performance, and the success of interactions with other people. The result is engagement, loyalty, innovation and much more.
Our Method incorporates a unique blend of:
Positive and Cognitive Psychology
Neuroscience
Sports Psychology
Appreciative Coaching
Eastern Philosophies and Approaches
Games-Based Processes
Theatre Techniques
Virtual Reality and more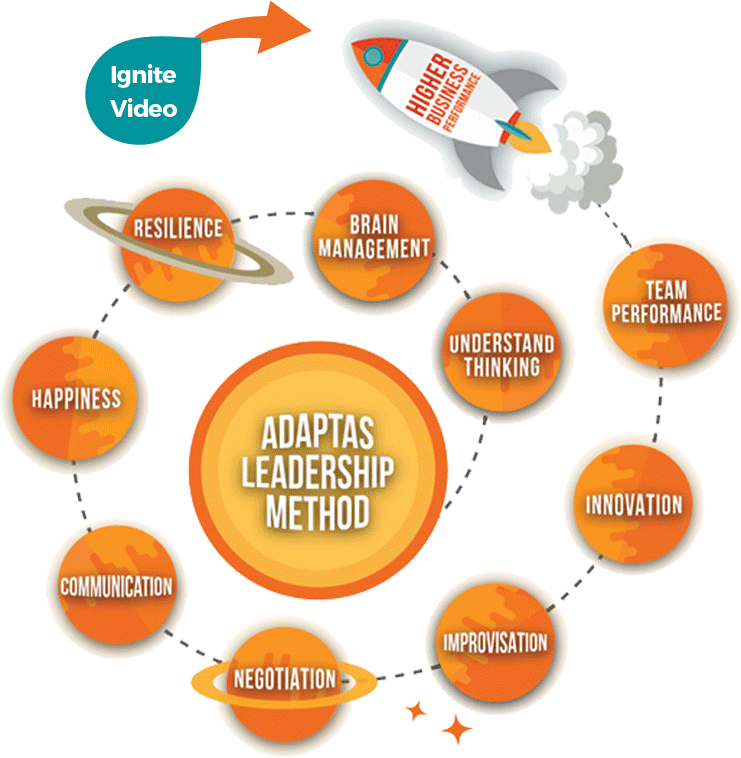 WHY US?
Our client's constantly remark we have a "real
UNDERSTANDING

of (their) business", that we "create a

SAFE

environment where people can act out their full POTENTIAL to see that it works", and that we are

"PROFESSIONAL",

 "DIFFERENT", and "ENTHUSASTIC".

We know that when people UNDERSTAND themselves better and COMMUNICATE accordingly, they and their teams ACHIEVE more of what they want.

We deliver unique activity-based learning experiences around innovative and scientifically backed experiential exercises, tools and techniques that truly achieve results.
What we do has been described by our clients as
"edgy"

,

"fresh"

and

"vibrant"

, and what is required to bring about

"maximum sustainable learning"
TO DISCOVER MORE ABOUT
OUR SOLUTIONS

I can honestly say the outcome was AMAZING. One of the highlights in the programme was in connecting our thinking to our behaviour and to the achievement of key goals and aspirations, and making worthwhile lasting adjustments

Naresh Asnani
CEO, Emel Group

I would count the hours that I spent on the Adaptas courses as some of the best spent time in my career to date. Truly insightful and I would recommend it to anyone who wants to develop their skills and capabilities as a manager and leader in the workplace

KPMG
Partner

This training should be mandatory for all staff members

Brown Thomas
Head of HR,

What amazed the team most was how well Celine and her team understood our business.

Michelle Cronin
Learning & Development Team Lead, Google

Great experience! Wonderful facilitator! Great fun! Identifying the thinking styles and noticing my actions was very useful. The way I think has been limiting me from achieving my true potential. I can see now this is easily changed. You will find ways to improve your life by changing your behaviour with Adaptas

Ali Safieddine
Executive Director, Black Horse Plastics Ind Ltd

If your business is serious about making positive and realistic change in a lively, vibrant and professional manner then you need look no further than Celine and her team to make that happen.

Nicola Donegan
Project Co-ordinator, Kanchi

"Celine carried out some excellent work with our senior teams at Network Rail. Her knowledge, understanding and empathy allows her to facilitate a powerful session. What these sessions provide is the ability to get under the skin of issues and to address the learnings so that is can be applied in day to day activity. Excellent and I would not hesitate to utilise the skills and experience of Adaptas in the future."

Andy Wong
Programme Stream Lead - People and cultural change (FTC), Network Rail

Adaptas uses extremely valuable tools with which to engage and support many types of audiences and as such have a capacity to deliver information and learning very differently to traditional approaches.

Niamh Hayes
Project Coordinator

Identifying your strengths and really working on your areas of improvement requires a surgical approach that actually changes how you work and live day-to-day, rather than the bandage approach taken through traditional training. It was the most powerful and insightful experience in over 10 years of working at a senior level and of attending courses!

Joseph Ryan
KPMG
There are a number of options available to managers and leaders who wish to progress through this programme or specific elements of it

The most practical, enjoyable and beneficial learning I have had in over 30 years of working.

Shona Geraghty,
CIB
"Traditional Learning and Development focuses on Transferring of Information. Our focus is on TRANSFORMING People"
Contact Us
Posted on: 20-03-2017
0 Comments
By: admin
Today is International Day of Happiness. "The International Day of Happiness recognises the relevance of happiness and well-being as universal goals and aspirations in the lives of human beings around the world and the importance of their recognition in public policy objectives." According to the United Nations website.  Di