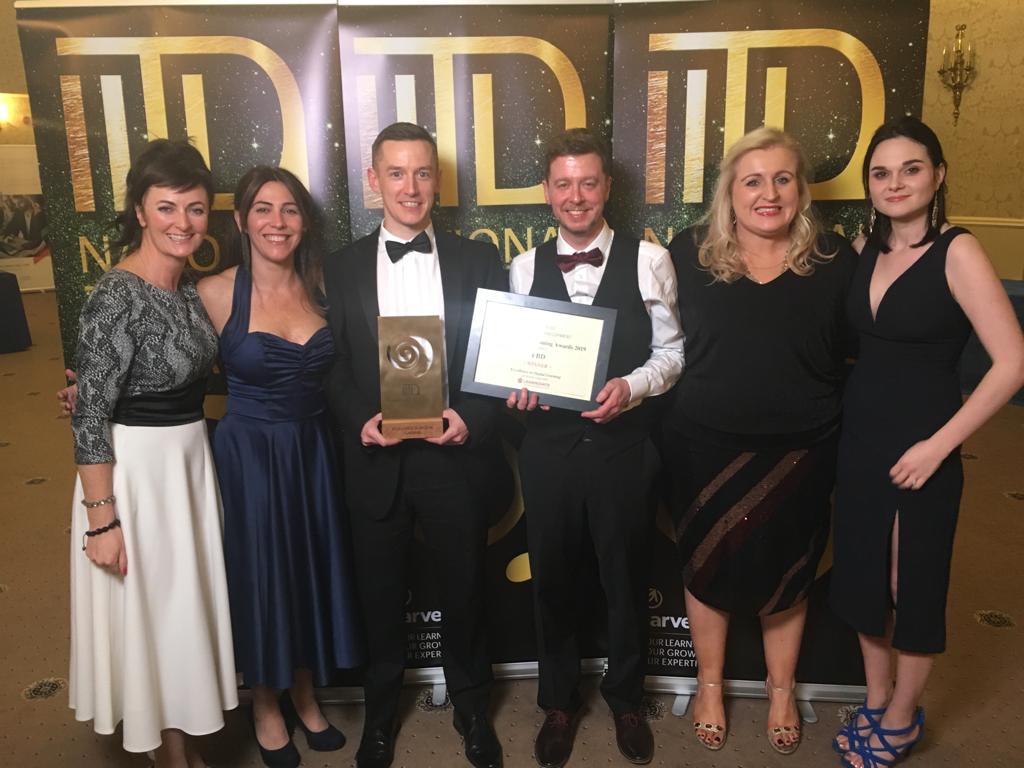 'Immersive Sales Star' is an IITD Training Award winner.
Institute of Training & Development, National Training Awards is recognised as the premier Learning & Development event for industry.  The purpose of the IITD National Training Awards is to promote excellence, best practice and innovation in Training and Learning & Development, and to highlight the importance of this area in today's business climate.
Excellence in Digital Learning Award.
We are delighted to announce that 'Immersive Sales Star' won the 'Excellence in Digital Learning' award from the Institute of Training & Development Awards 2019. Adaptas created 'Immersive Sales Star' with the Learning and Development Team at FBD Insurance. 'Immersive Sales Star' is a number of Virtual Reality simulations of Sales Call conversations being utilised for motor and home insurance customer contact centre training. It is being used to scale best-in-class behaviours and competencies and replace the need for the shadow sessions.
What do FBD say about this VR training solution? 
"Great solutions in business are never created by a single individual; they are done by a talented and committed group. This is why we chose to partner with Adaptas Training. Adaptas have been early adopters of using Virtual Reality technology, a medium which enables more immersive staff training. The Adaptas team helped us create an innovative, practical and results orientated training solution to overcome a real business challenge. The 'Immersive Sales Star' tool has improved product knowledge which in turn is improving Sales Performance and has eliminated the cost associated with employing a full time Sales Coach"
John Mulreid, Learning and Development Manager, FBD Insurance
What are the learners saying after using 'Immersive Sales Star'?
"When I made my first real call, I felt like I had done it before"
"It brought all the jigsaw pieces of the training together for me"
"It makes you feel like you have done a call and achieved the sale"
"It made me feel like I stepped into an expert seller's shoes"
"It trains you in the exact environment that you're working in rather than a meeting or training room"
"Rather that skating around the question, I now go straight in and ask directly for the sale"
You can check out the Immersive Sales Star FBD case study here. 
Back to Teams