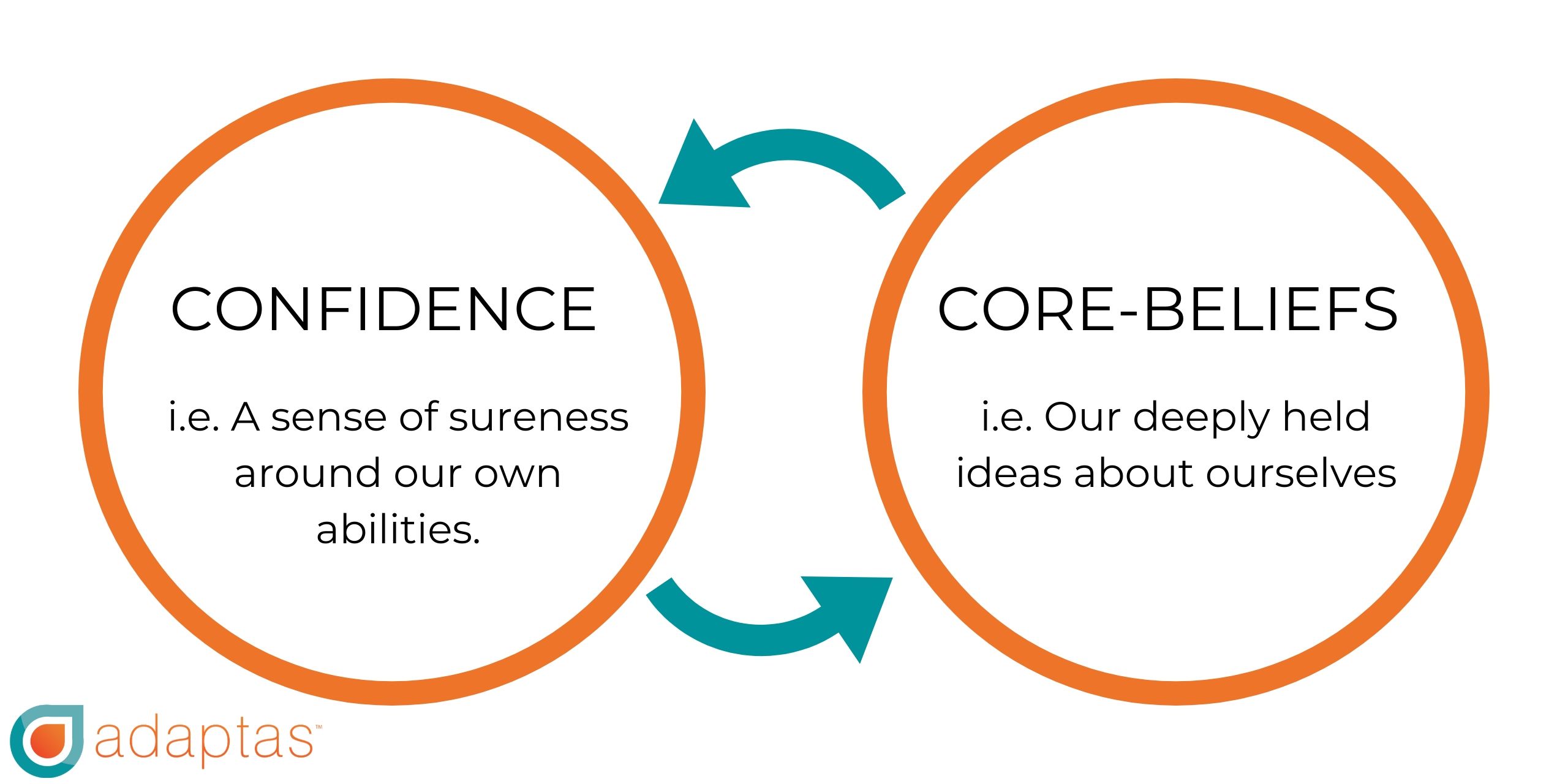 In our careers, success and confidence often seem inextricably linked. This can be stressful as confidence is a tricky thing to hold on to. Too often we allow our confidence to be dictated by the events and people around us.
Here at Adaptas, we believe the missing piece is the understanding that confidence is something we control for ourselves.
At its essence, confidence is a sense of "sureness." Feeling sure that we are equal to the task at hand. This sureness comes from preparation and deep-seated beliefs about ourselves. Confidence is not the complete absence of fear, worry or self-doubt. When we are trying to feel more confident, we often focus on technical preparation, failing to tackle the core beliefs that are fuelling our feelings of self-doubt in the first place. Why? Because they are big, intimidating things to tackle, and because sometimes we aren't aware of them. Here is the problem: if we don't tackle the beliefs, we can get stuck in a long game of bluffing ourselves and playing a part, all the time feeling like an impostor.
Our core beliefs act as a life blueprint. Forming the foundations of how we interpret the world, core beliefs shape how we react to success and struggle and the way that we see and understand our thoughts and actions within the context of our lives. Sound a little complicated? Well, it is! It can be tricky to identify our core beliefs and understand how they are influencing us. The best place to start is by analysing the thoughts that pop into your head un-invited.
"I won't be able to answer the questions they ask me at the end of the presentation."
"I don't know enough about ________ to be in this meeting."
"I am terrible at speaking in front of people."
These unhelpful thoughts are little clues to the core beliefs that are creating them. Identify a negative thought and ask yourself: why do I think this? Follow the thought back into your mind. You'll know when you stumble across a core belief because it will feel 100% true, even if you wish it didn't.
I am stupid.
I am not good enough.
I don't deserve success.
We call these types of negative core beliefs 'Limiting Beliefs' because they prevent you from reaching your full potential and they are not true. They feel true but they are not. These beliefs are a habitual way of thinking about yourself, built on faulty information. Like all habits, they can be changed. Our workshops build confidence by guiding participants through the process of confronting and changing their limiting beliefs around important work-related behaviours, while also teaching the tricks and tools of long-term habit change. This empowers our clients to continue the process of developing their confidence long after the workshop is over.
Back to Teams